Meet the Veterinarians & Staff of The Zimmerman Veterinary Clinic
Veterinarians
Maria R. Krenz, DVM, Owner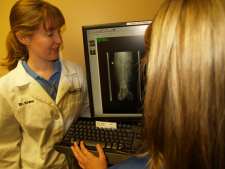 Dr. Krenz has been practicing veterinary medicine in the Zimmerman area since 2007. She purchased The Zimmerman Veterinary Clinic in December 2008 after longtime owner and founder, Dr. Tony Damer, retired. She is passionate about providing the highest standard of care to companion pets in the form of new technology and updates to the clinic to better serve pets and clients.
Dr. Krenz holds a Doctorate of Veterinary Medicine from the University of Wisconsin-Madison and a bachelor of science degree in animal science from the University of Wisconsin-River Falls. She also regularly attends national and regional seminars, conferences, and workshops in order to stay up-to-date on the latest protocols and veterinary medical techniques.
Dr. Krenz lives on a hobby farm outside of Princeton with her husband, Josh, where they raise horses, cats, chickens, sheep, and cattle. In her spare time, she enjoys gardening and working on their farm and house.
Heather Vogl, DVM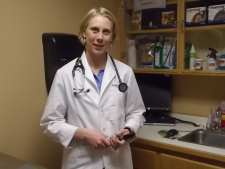 Dr. Vogl holds a Doctorate of Veterinary Medicine from the University of Minnesota College of Veterinary Medicine and a bachelor of arts in biology from the University of Minnesota, Morris. After completing her veterinary degree, she spent one year doing a high-intensity internship at Georgia Veterinary Specialists, an emergency and specialty hospital in Atlanta, Georgia.
A lifelong Minnesota resident, Dr. Vogl practices as a relief veterinarian at many of the local veterinary clinics in addition to working at The Zimmerman Veterinary Clinic. When not practicing medicine, Dr. Vogl enjoys spending time at home with her husband, Craig, and two chocolate Labradors, Fudge and Dobie. On any given weekend you can find her on the Wobegon Trail with the dogs, tending to her vegetable and flower gardens, scrapbooking, or enjoying the good weather on a motorcycle ride with her husband.
Technician Staff
Christy Erdmann, CVT, Lead Technician
Christy has gained a wealth of veterinary knowledge over the past 25 years, having worked at several Minneapolis/St. Paul area veterinary clinics. In that time, she has held a variety of positions including surgery technician and lead technician. Her vast experience is a valuable asset to our clinic as she assists clients with their various veterinary needs.
Christy holds a veterinary technician degree from the Medical Institute of Minnesota's Veterinary Technology program. She has been a practicing technician since 1987 and is currently a certified veterinary technician licensed by the State of Minnesota.
A Minnesota native, Christy resides in Anoka with her husband, Dave, and her son, Nash. She also shares her home with two dogs, Tuki, a shih tzu/poodle, and Missy, a King Charles Spaniel, as well as her two cats, Monkey and Boo Boo.
Support Staff
Amy Johnson, Lead Customer Service Representative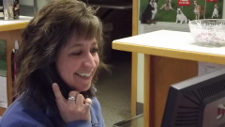 Amy started her career in veterinary medicine in 1993, and now serves as the lead receptionist for The Zimmerman Veterinary Clinic. She holds an Associate of Science Degree from the Medical Institute of MN, Veterinary Technology Program. Amy enjoys veterinary medicine because it is an ever-changing and challenging profession. Her career choice also fuels her passion for animals by providing pets with a positive medical experience every day.
A certified veterinary technician, Amy uses her 20 years of experience to help customers understand the services offered by the clinic. This firsthand veterinary technician experience gives her an in-depth perspective when discussing services performed on our client's pets.
Amy resides in Milaca, Minn., with her husband and their many animals. She enjoys spending time with her many varied animals and working on outdoor projects.
Nicole Bistodeau, Customer Service Representative
Nicole is another one of the friendly faces you will see when you first walk through the door of our clinic. She has a passion for cats and dogs and takes great pleasure in greeting each pet and owner when they visit.
Nicole holds an associate degree in business administration from the Minnesota School of Business. She also is continuing her education by pursuing a degree in biological science at Cambridge Community College.
A Minnesota native, Nicole currently lives in Princeton, Minnesota, where she shares a home with her nine-, five-, and four-year-old boys.
Client Testimonials
I really appreciated the way the doctors at the clinic cared for Diamond. Over fifteen years of love with my wonderful dog and the quality of regular care she received at the clinic made it possible. I was especially touched by the sympathy card I receive after sadly having to put her to sleep, it shows they really care.
— Darryl Anton
After recently moving to Minnesota we researched many veterinarian options and we chose the Zimmerman Veterinary Clinic. The staff was honest, thorough and genuinely caring. Their follow-up on our pets care was outstanding. Itís worth the trip for your petís care.
— The Connorsí Family - Rich & Amy Maximus, Petie, Buster, Bandit, Shadow, Kodibear & Sammy
We have taken our pets to the Zimmerman Vet Clinic for 20 years. Even when our visit was a sad one, we were treated with kindness and courtesy. The staff has always been professional and friendly. We highly recommend Zimmerman Vet Clinic to anyone who loves their pet.
— Bratsch
The staff at Zimmerman Veterinary Clinic has taken care of my dogs since 1979. I am especially pleased with the care of my last companion/friend, Ruby Mae. She received the best care I could have expected. The staff gave her loving care and attention during her whole lifetime. I canít thank them enough for being there for support. I will continue to use them with my new friend, Baily Sue.
— Sincerely, Dale Cannon
We love Zimmerman Vet! They give the best care & have a wonderful staff!
— Laurie Gansen Cramer
Thank you all for being such amazing people & taking such great care of my little man Bentlee! You will never know how much I appreciate all your information, fast actions & the care you put forth to all animals that come to your office! Thanks Again!
— Dani George
Iíve had dogs all my life and this is by far the best place to take your pet for their veterinary needs!!! Great service from the entire staff, they really care about the wellness of your pet, and my Gauge gets a little extra TLC (he is a senior now).
— Bonni Placek Cook