Meet the Veterinarians & Staff of ZimmVet
Veterinarians
Maria R. Krenz, DVM, Owner
Dr. Krenz has been practicing veterinary medicine in the Zimmerman area since 2007. She purchased ZimmVet in December 2008 after longtime owner and founder, Dr. Tony Damer, retired. She is passionate about providing the highest standard of care to companion pets in the form of new technology and updates to the clinic to better serve pets and clients.
Dr. Krenz holds a Doctorate of Veterinary Medicine from the University of Wisconsin-Madison and a bachelor of science degree in animal science from the University of Wisconsin-River Falls. She also regularly attends national and regional seminars, conferences, and workshops in order to stay up-to-date on the latest protocols and veterinary medical techniques.
Dr. Krenz lives on a hobby farm outside of Princeton with her husband, Josh, where they raise horses, cats, chickens, sheep, and cattle. In her spare time, she enjoys gardening and working on their farm and house.
Hillary McCulloh, DVM
Dr. McCulloh is a native of St. Cloud, Minn., and grew up on hobby farm where her family raised sheep and horses. Being a veterinarian was a lifelong dream, and a goal that began at the young age of 3. Dr. McCulloh graduated from the University of Minnesota College of Veterinary Medicine in 2006. After graduation, she traveled across the country and worked at several veterinary clinics, where she provided care for a number of different species in addition to dogs and cats. Dr. McCulloh also spent some time in the Western part of the United States, working for an animal shelter. She continues to be involved with various shelters and rescues presently.
Dr. McCulloh enjoys the diverse challenge of all aspects of general practice, but has a special interest in surgery with an emphasis on dentistry. Dr. McCulloh is constantly working to stay up-to-date on the latest veterinary medical information, and she frequently attends local and national continuing education workshops on various veterinary topics. Her favorite continuing education involves learning more about dentistry, especially hands-on dentistry wet labs where she practices the latest techniques and masters her dentistry skills.
When not at work, Dr. McCulloh continues to help her family with their sheep hobby farm. She also enjoys spending time outdoors hiking with her dogs, biking, cross country skiing, and riding her horses.
Stacy York, DVM
Dr. York holds a Doctorate of Veterinary Medicine from the University of Minnesota. After graduation, Dr. York has practiced small animal veterinary medicine in the Twin Cities area. Prior to becoming a veterinarian, Dr. York spent time learning about veterinary medicine by working as a kennel attendant, receptionist, technician assistant and veterinary technician. Dr. York enjoys being a general practitioner, and she has a very strong interest in surgical procedures.
Continuous education and learning is important to Dr. York and her ability to serve the individual needs of each patient. She accomplishes this by being an active member of the Minnesota Veterinary Medical Association, the American Veterinary Medical Association, the American Animal Hospital Association, and the Minnesota Veterinary Response team. In the past, she has also been a veterinary volunteer for RAGOM. She has also served as a foster home for Human Society's Orphaned kitten project. Dr. York is also a former member and foster parent for Second Chance St. Bernard Rescue and past member of Northstar Newfoundland Club.
Having been born and raised on a small beef cattle farm in Iowa, Dr. York enjoyed the opportunities to work with a wide range of animals growing up. Today, Dr. York lives in the Twin Cities with her husband, Mike and their two children. She also has two domestic long-haired cats, and three dogs (Chewy - Newfoundland, Dozer - English bulldog, and Lulu Belle - French bulldog). In her spare time, Dr. York aspires to enjoy photography, scrap booking, hiking, biking, boating, cooking, reading, and working on home improvement projects with her husband.
Technician Staff
Kelly Melhorn, CVT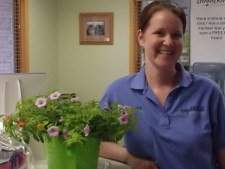 Kelly was born and raised in Minnesota and began to express her career passion for animals in 2000. She received a Bachelor's degree in Biology from Bemidji State University and used her degree to become a zoo keeper. She worked as a zoo keeper for over 4 years at the Red River Zoo in Fargo, North Dakota. During that time, she was able to help raise a pack of wolf pups and a litter of porcupines. Kelly was also the only zoo keeper in the U.S. to breed Russian Red Tree Squirrels and raise them.
In 2011, Kelly and her husband were looking for a change of scenery and moved to Colorado. She decided to further her education and enrolled at the Bel-Rea School of Animal Technology to become a Certified Veterinary Technician.
In 2014, Kelly moved back to Minnesota and now lives in Otsego with her husband Josh, their daughter Clara, their two dogs Kramer and Clarence, and three cats Cleopatra, Gunther, and Matilda.
Kristin Rinkel, CVT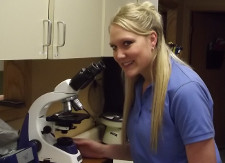 With over 9 years of experience, Kristin chose to be a professional veterinary technician because of her compassion for helping pet owners understand the health needs of their loved ones. This compassion can be seen in how she approaches every individual pet.
Kristin began her career by fulfilling a variety of veterinary clinic roles, including working as a veterinary assistant, receptionist and kennel worker. In 2009, Kristin graduated from the Minnesota School of Business with an Associates of Science Degree in Veterinary Technology. Today, Kristin is a Certified Veterinary Technician.
Having a father in the U.S. Army, Kristin was born in Germany and spent many of her younger years overseas and in other parts of the U.S. She spent the remaining parts of her childhood and young adult life in Minnesota. Kristin currently lives in Princeton with her husband Jake, and their infant daughter, Autumn, as well as their furry friends Pumpkin (cat) and Kiya (Siberian Husky).
Ashley Middendorf, CVT
Growing up as a child, Ashley's passion for veterinary medicine was greatly influenced by close family and friends with careers in the veterinary field. She would spend the summers while growing up in Wisconsin at her Aunt's veterinary clinic, which allowed her to observe the veterinary field in action. These experiences encouraged her to pursue a career in veterinary medicine.
After high school, Ashley pursued her passion for animals by attending the University of Minnesota for animal science. During this time, she decided to pursue the veterinary technician career path. She transferred to Minnesota School of Business and graduated with her Associates of Science Degree in Veterinary Technology in 2010. As a Certified Veterinary Technician, one of her first jobs was as a veterinary technician at a humane society. She enjoys continuing her education with conferences, and being an active member of Minnesota Association of Veterinary Technicians.
Ashley resides in Big Lake Township with her husband, Chris. They share their home with four dogs & 2 cats.
Support Staff
Amy Johnson, CVT, Lead Customer Service Representative
Amy started her career in veterinary medicine in 1993, and now serves as the lead receptionist for ZimmVet. She holds an Associate of Science Degree from the Medical Institute of MN, Veterinary Technology Program. Amy enjoys veterinary medicine because it is an ever-changing and challenging profession. Her career choice also fuels her passion for animals by providing pets with a positive medical experience every day.
A certified veterinary technician, Amy uses her 20 years of experience to help customers understand the services offered by the clinic. This firsthand veterinary technician experience gives her an in-depth perspective when discussing services performed on our client's pets.
Amy resides in Milaca, Minn., with her husband and their many animals. She enjoys spending time with her many varied animals and working on outdoor projects.
Pam Shafer, CPDT-KA (Certified Professional Dog Trainer - Knowledge Assessed)
Pam leads the Pet Boarding, Doggie Daycare and Behavioral Pet Training Classes at ZimmVet. A lifelong animal enthusiast, Pam has a tremendous passion for learning and teaching animal behavior. Pam began her career as a veterinary technician assistant in 2006. Shortly after beginning her career, she began managing a Doggie Daycare and Boarding facility.
In 2014, Pam became a certified dog obedience trainer. Over her career, she has continuously studied canine body language, behavior, and training through positive reinforcement. Pam enjoys helping owners connect and bond with their pets by helping owners teach their pets proper manners and fun tricks.
Pam leverages her knowledge of animal behavior when working with Doggie Daycare and Boarding pets as well. She uses this time to study the behaviors and characteristics of positive reinforcement, which she can then pass on to the pet's owners. Pam lives in Anoka with her family and their two dogs, Ranger and Riley, and two cats, Steve and Kevyn. She has two daughters and is expecting her first grandchild, soon.
Stephanie Mistretta
Stephanie has been an avid animal lover her entire life. She grew up with many canines around her house, including Alaskan Malumutes, American Eskimos and Golden Retrievers. In addition, she expressed her love for dogs by volunteering for a local Golden Retriever rescue for ten years, during her youth.
With more than 10 years of customer service support, Stephanie works with customers to listen to their needs and to help them in each unique situation. Her pet care career began in 2007 and includes past experiences at a boarding and grooming facility as well as a 24-hour animal hospital. Combining her customer service experience and pet care experience, helps Stephanie provide personalized pet care to every patient.
A St. Louis, Mo., native, Stephanie now resides in Foreston, Minn., with her boyfriend Randy and their two cats (Mila and Lola) as well as their Golden Retriever (Seger). In her spare time, she plays softball and enjoys attending St. Louis Cardinals and St. Louis Blues games as well as traveling to NASCAR races.
Client Testimonials
Wonderful Care! We have been bringing both dogs to ZimmVet for years. We always get great care and everyone is friendly. Our Lab gets so excited when she gets there. Our other dog suffers from great anxiety and they treat her so well. They know the personality of both so well and know how to treat them.
— Lee D.
I would not know of any other veterinarian that has a more caring staff that are patient with us and take the time to listen about our three Pomeranians. Zimmvet knows how important our girls are to us and I would not take a chance on bringing them anywhere else.
— Ken G.
Our vet honored our desire to keep expenses down by providing us with estimates of the treatment we could choose from while trying to find out what was wrong with our very sick puggle. No cost was hidden. On top of all this, our dog was given excellent care. We love Zimmvet.
— Carisa M.
I have and will continue to recommend ZimmVet to others. The staff is personable and professional on all levels, both to the human clients and the animal patients. It is reassuring to me to know that I can count on them for any assistance I may need in caring for my pets now and in the future.
— Lou S.
We love Zimmvet! And most importantly, Handsome loves everyone at Zimmvet! We use their vet services and pet hotel and couldn't be happier with both. Highly recommend!
— Leigh C.
Our experiences over the years are always positive, even if the outcome isn't. The doctors and staff are warm and friendly. They are also very professional and thorough. We feel strongly that we get great value for our dollar, as well as wonderful pet care.
— Laurie C.
ZimmVet Pet Hotel has provided extended stay care for our German Shepherd and Black Labrador twice in the last two years. They did a great job of caring for them both during a two-week trip - not only catering to their needs but their concerned owners with email updates and photos. We can't say enough good things about ZimmVet Pet Hotel!!
— Curt V.
ZimmVet has well trained and competent professionals, but even more important to me is that they are sincerely 'good' people. They care about you and your pets - you're just not another record. In addition to the great staff, they offer a very broad range of services - even day care and training classes!
— Suzanne F.