Pet Hotel for Pets in Zimmerman, Elk River, Princeton, MN & Surrounding Areas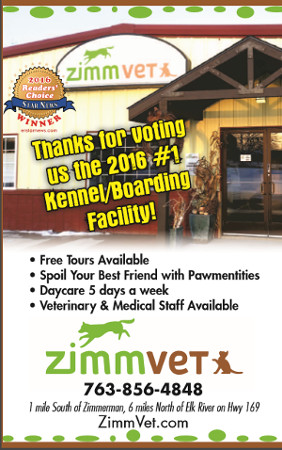 Your pet deserves the best pet care while you are away. Leaving home is stress free at ZimmVet Pet Hotel. Located in our veterinary clinic, the Pet Hotel provides pets with their own private suite (accommodations can be made for pets from the same household to share a suite) and full access to our caring staff and pet–friendly facilities.
Our Pet Hotel offers King Suites, Standard Suites, Lofts, Dens, and Cat Cottages. Dogs are let out every 2–3 hours for relief breaks and all pets receive 2–6 hours of playtime per day either outside in one of our 6 outdoor play yards or inside our climate controlled exercise area. Pawmenities can be added a la carte for your best friend's stay and enjoyment. Our highly trained staff is monitoring guests from 6am until 10pm.
A free temperament assessment is performed on each dog to determine which play group they are most comfortable in. If at any time a pet appears fearful, stressed, or anxious the assessment will pause, allowing the dog time to acclimate to the stimulation. Until the pet is able to move forward comfortably, they will receive individual playtime with one-on-one attention from our caring staff.
Included in our Dog Suites:
State-of-the-art ventilation system
Climate control for comfort in all seasons
Epoxy flooring for a sanitary, non-slip environment
Quality bedding including mats, blankets and cots
Outdoor & indoor exercise area
Administration of basic medications
Individualized feeding
Administration of natural calming agents, if needed
Daily updates to owners via text message or email
Hotel Rates:
Deluxe Suite

Our Deluxe Suites measure 6 feet by 6 feet. This is a great options for dogs over 100 pounds or for siblings who are more comfortable together. The cost for Deluxe suites are $41 for the first dog and $34 for an additional dog.

Luxury Suite

Bailey is modeling our Luxury suite, which measures 6 feet deep by 3 feet wide. Dogs weighing 20–100 pounds are most comfortable here and the cost is $34 per day. Dogs from the same family can be boarded together in a Luxury suite if their combined weight is under 100 pounds. The cost per additional dog in a Luxury suite is $30 per day.

Studio Suite

Our 3x3 Studio Suite is perfectly comfy cozy for those guests who weigh under 30 pounds. The rate for the Studio Suite is $34 per day.

Den

Lulu Belle loves relaxing in her den after having a blast in daycare! Our dens are 54"Lx37"Wx45"H and 48"Lx30"Wx32.5"H. The Extra Large Dens are ideal for dogs up to 100 lbs while the Large Dens are sized for dogs up to 75 lbs. The cost is $30 per day.

Cat Cottage: $34

Princess enjoys relaxing in our Cat Cot-tages which measure 28"x28"x28". The cost is $34 per day.
Pet Hotel Reception Desk Open Hours:
Monday-Friday: 8:00a.m. - 6:00p.m.
Saturday: 8:00a.m - 1:00p.m & 5:00p.m. - 6:00p.m.
Sunday & Holidays: 9:00a.m - 10:00a.m & 5:00p.m. - 6:00p.m.
Pet Hotel Check-In & Check Out Times
Monday - Friday
Saturday
8:00a.m. - 1:00p.m.
5:00 p.m. - 6:00 p.m
Sundays & Holidays
9:00a.m. - 10:00a.m.
5:00p.m. - 6:00p.m.
Requirements for Admission to the Pet Hotel
Dogs
Current Annual Admission Form (Follow link below to submit)
Current Flea and Tick Prevention (Please know the date last applied at the time of reservation)
Current Dewormer or Negative stool sample within the last 30 days
Rabies Vaccine
Distemper Combination Vaccine (Distemper, Adenovirus, Parvovirus)
Bordatella Vaccine (Kennel Cough)
Influenza Vaccine (Bi-Valent)
Lyme and Leptospirosis Vaccines are recommended, but not required
Cats
Current Annual Admission Form
Current Flea and Tick Prevention (Please know the date last applied at the time of reservation)
Current Dewormer or Negative stool sample within the last 30 days (Please know the date last applied at the time of reservation)
Rabies Vaccine
Distemper Combination Vaccine (Panleukopenia, Rhinotracheitis, Calicivirus)
Feline Leukemia is recommended, but not required
If your pet needs any services updated, an appointment must be made with our ZimmVet Clinic prior to admission. Those guests who are not ZimmVet Veterinary clients must submit vaccine history from their veterinary clinic at least 48 hours prior to the check-in appointment.
What to Bring
Paperwork – Vaccine History, Admission Form, Flea/Tick and Dewormer Dates, etc.
Food for your pet and/or treats. ZimmVet provides food and water dishes.
Medications. Please call ahead if you need a refill from our pharmacy.
Blanket/Bed. ZimmVet provides cots, mats, and/or blankets.
Chew toys or bones to have in their suite. ZimmVet will provide toys during playtime.
Please label all of your pet's belongings and avoid bringing beds or toys if your dog will chew on or tear at them. An inventory of all belongings is made at check-in. Owners will be notified if any items are left in the hotel and will be kept in the lost and found for 30 days pending pick up of such items.
Cancellation Policy for Hotel Reservations
Changes to hotel reservations must be made within 24 hours of the check-in appointment for reservations involving only weekdays and 72 hours of the check-in appointment for reservation involving weekends. Shortening a hotel reservation after this time will result in a cancellation fee of $34.
Pet Hotel Admission Form
Client Testimonials
Wonderful Care! We have been bringing both dogs to ZimmVet for years. We always get great care and everyone is friendly. Our Lab gets so excited when she gets there. Our other dog suffers from great anxiety and they treat her so well. They know the personality of both so well and know how to treat them.
— Lee D.
I would not know of any other veterinarian that has a more caring staff that are patient with us and take the time to listen about our three Pomeranians. Zimmvet knows how important our girls are to us and I would not take a chance on bringing them anywhere else.
— Ken G.
Our vet honored our desire to keep expenses down by providing us with estimates of the treatment we could choose from while trying to find out what was wrong with our very sick puggle. No cost was hidden. On top of all this, our dog was given excellent care. We love Zimmvet.
— Carisa M.
I have and will continue to recommend ZimmVet to others. The staff is personable and professional on all levels, both to the human clients and the animal patients. It is reassuring to me to know that I can count on them for any assistance I may need in caring for my pets now and in the future.
— Lou S.
We love Zimmvet! And most importantly, Handsome loves everyone at Zimmvet! We use their vet services and pet hotel and couldn't be happier with both. Highly recommend!
— Leigh C.
Our experiences over the years are always positive, even if the outcome isn't. The doctors and staff are warm and friendly. They are also very professional and thorough. We feel strongly that we get great value for our dollar, as well as wonderful pet care.
— Laurie C.
ZimmVet Pet Hotel has provided extended stay care for our German Shepherd and Black Labrador twice in the last two years. They did a great job of caring for them both during a two-week trip - not only catering to their needs but their concerned owners with email updates and photos. We can't say enough good things about ZimmVet Pet Hotel!!
— Curt V.
ZimmVet has well trained and competent professionals, but even more important to me is that they are sincerely 'good' people. They care about you and your pets - you're just not another record. In addition to the great staff, they offer a very broad range of services - even day care and training classes!
— Suzanne F.