Pet Training for Pets in Zimmerman, Elk River, Princeton, MN & Surrounding Areas
Request Your Reservation Below
Behavioral-related issues are one of the most common frustrations for pet owners. The good news is that behavioral changes can be addressed with proper training and positive reinforcement. At ZimmVet Pet Training School, we offer everything from puppy classes to obedience, 2-dog training, and much more. These classes are designed and taught by our experienced trainer, and offered year-round in our indoor exercise facility and outdoors in our dog park.
Meet our Trainers
Jenny Stanslaski is certified veterinary technician (CVT), Low Stress Handling Certified, Fear Free Certified Elite, a graduate of the Karen Pryor Academy (KPA-CTP), and the current president of The Society of Veterinary Behavior Technicians. She has professionally trained pets for over 17 years and is goal orientated to help you build a strong bond through positive reinforcement training to have a well-mannered companion. Her website is behaviormatterspettraining.com
Class Start Dates
Puppy Class (4 months and younger) from 6:15 p.m.–7:15 p.m. starting October 12th
Obedience 1 and 2 (4 months and older) from 7:30 p.m.–8:30 p.m. starting October 12th
Our Pet Training School classes include: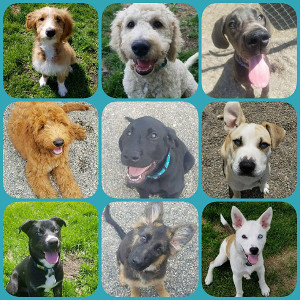 Puppy Kindergarten
5-week course for $150
Puppies 8 weeks to 4 months old
Skills learned: sit, down, stay, come, leave it, drop it, watch me.
Special skills learned: walk on a leash, on/off scale, play time, target/touch, rollover, shake hands.
Handling skills learned: nail trim, teeth brush, grooming, ear cleaning, safe restraint.
Discuss life skills such as potty training, nipping, jumping, and socialization.
Learn how your dog thinks and learns - connect with your dog and become a trusted partner!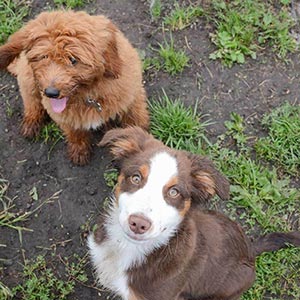 Canine Obedience 1
5-week course for $150
4 months of age and older
Basic skills learned: Review of Puppy Obedience, Line Up, Walk forward, Leave it with distractions, Come when called with distractions, Sit-stay-walk around pet both directions.
Special skills learned: Greetings, Stay for a duration, Relax on your mat, Feet on the Floor.
Handling skills learned: Review of Puppy Handling Skills, Advanced handling techniques.
Learn how your dog thinks and learns - connect with your dog and become a trusted partner!
Training classes are offered periodically throughout the year and are on a first-come basis. Please contact us to join a training class. Class size is limited to ensure the best experience for your pet. Payment is due 48 hours prior to the class to ensure your spot and can be collected via phone or in person during ZimmVet's operating hours. Class fees are not refundable and missed classes will not be able to be made up.
Requirements for Admission to Training Classes
Dogs
Up-to-date on vaccinations including: Rabies, Bordetella (kennel cough), Influenza and Distemper Combination (Distemper, Adenovirus, Parvovirus). Leptospirosis and Lyme vaccinations are recommended, but not required (owners should discuss the risk with our veterinary staff). Puppies must be current on vaccinations appropriate for their age. Veterinary records are required prior to admission.
Current on Flea prevention. At check-in, we will ask you to record medication and date when last dose was given.
General Dewormer or Negative stool sample within the last 30 days (most heartworm preventatives include a dewormer).
If your pet needs any services updated, an appointment must be made with our ZimmVet Clinic prior to admission.
Pet Training Admission Form