Puppy Program in Zimmerman, Elk River, Princeton, MN & Surrounding Areas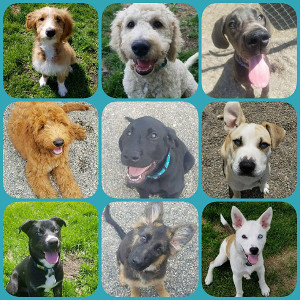 Request Your Reservation Below
We are so excited to introduce you to ZimmVet's Puppy Program!
This program developed from a need to provide a comprehensive socialization program that helps support your puppy's long term behavioral growth and social development. In addition to positively facilitated puppy playtime that introduces other puppies and "babysitter" dogs, we also focus on introducing your pet to new people, places, things, and experiences to allow them to gain confidence and learn to process new stimulus in a positive way.
Upon graduation from the puppy program, your dog will be ready to be evaluated for ZimmVet Doggie Daycare, already having met the staff, seen the facility, understand the routine and expectations, and even met some of the friends that will be in their daycare playgroup.
In addition, your puppy will have been desensitized to our veterinary staff, facility, and our Fear Free handling techniques that create a low stress and positively reinforced veterinary experience!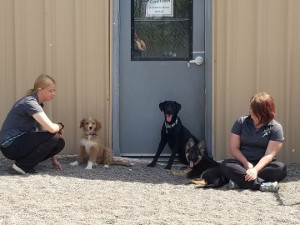 Activities included in Puppy Program
Potty Training - frequent potty breaks throughout the day
Crate Training - private cozy den with a kong treat at each visit ($112 value)
Basic Obedience Review
Practicing Loose Leash Walking
Introduction to Veterinary Handling ($320 value)
Experience basic grooming with Pampered Pooch Spa Package ($70 value)
Off-Leash Group Play ($960 value)
Exposure to new people, surfaces, objects, obstacles, and sounds
RATES AND REQUIREMENTS
Eligible Age:
8 weeks to 6 months
Check-In: 6am-9am
Check-Out: 4pm-6pm
*Reservation required by 6pm the previous day
Please call for pricing and avialability.
Requirements
Admission Form - This form includes basic information about your puppy's diet, medications, emergency contact information, etc. It is to be filled out each calendar year and is required for all Daycare, Hotel, and Training activities.
Vaccines - All puppies are required to have received their age appropriate vaccines and boosters for Rabies, Distemper, Bordatella, and Influenza. Lyme and Leptosporosis vaccines are recommended, but not required to participate.
Flea and Tick Prevention is required year-round on all pets participating in Daycare, Hotel, and Training activities.
General Dewormer is required year-round on all pets participating in Daycare, Hotel, and Training activities.
Puppy Program Admission Form
Client Testimonials
Wonderful Care! We have been bringing both dogs to ZimmVet for years. We always get great care and everyone is friendly. Our Lab gets so excited when she gets there. Our other dog suffers from great anxiety and they treat her so well. They know the personality of both so well and know how to treat them.
— Lee D.
I would not know of any other veterinarian that has a more caring staff that are patient with us and take the time to listen about our three Pomeranians. Zimmvet knows how important our girls are to us and I would not take a chance on bringing them anywhere else.
— Ken G.
Our vet honored our desire to keep expenses down by providing us with estimates of the treatment we could choose from while trying to find out what was wrong with our very sick puggle. No cost was hidden. On top of all this, our dog was given excellent care. We love Zimmvet.
— Carisa M.
I have and will continue to recommend ZimmVet to others. The staff is personable and professional on all levels, both to the human clients and the animal patients. It is reassuring to me to know that I can count on them for any assistance I may need in caring for my pets now and in the future.
— Lou S.
We love Zimmvet! And most importantly, Handsome loves everyone at Zimmvet! We use their vet services and pet hotel and couldn't be happier with both. Highly recommend!
— Leigh C.
Our experiences over the years are always positive, even if the outcome isn't. The doctors and staff are warm and friendly. They are also very professional and thorough. We feel strongly that we get great value for our dollar, as well as wonderful pet care.
— Laurie C.
ZimmVet Pet Hotel has provided extended stay care for our German Shepherd and Black Labrador twice in the last two years. They did a great job of caring for them both during a two-week trip - not only catering to their needs but their concerned owners with email updates and photos. We can't say enough good things about ZimmVet Pet Hotel!!
— Curt V.
ZimmVet has well trained and competent professionals, but even more important to me is that they are sincerely 'good' people. They care about you and your pets - you're just not another record. In addition to the great staff, they offer a very broad range of services - even day care and training classes!
— Suzanne F.