ZimmVet Welcomes New Clients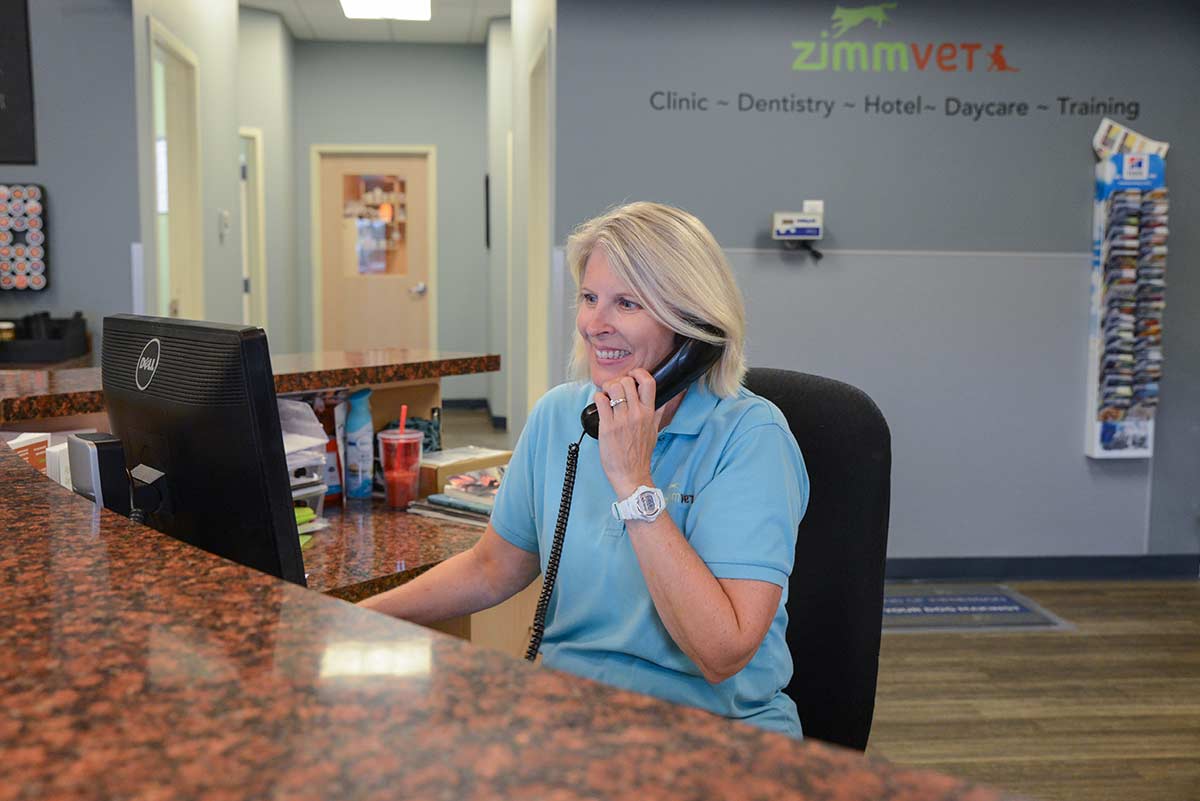 Adding a new pet to your family is an exciting experience. At ZimmVet, we are here to share in your excitement and help your pet develop both mentally and physically.
Whether you are a new pet owner or simply new to our practice, our professional and compassionate veterinarians and veterinary staff are excited to meet you and your pet and help the two of you develop your relationship together.
We encourage you to browse our website for information on our wide array of veterinary services and pet care resources.
Appointments
Please contact our office to schedule an appointment or click the schedule an appointment link on our home page. We ask that new clients call to schedule an appointment. Pets must be in a carrier or on a leash for everyone's protection.
If this will be your first visit, we kindly request that you fax, mail, or email your pet's veterinary records to our office in advance so that our veterinarians may review them prior to your appointment. We also have a new client form that you may fill out online or download prior to your visit.
Our introductory appointments typically last about 30-60 minutes. This enables our veterinarians to conduct a thorough exam of your canine or feline, as well as learn more about you, your pet, and your family's lifestyle. These details will allow us to provide veterinary care that is specifically tailored to your pet's individual needs.
Payment Options
Payment is due when services are rendered. We accept most major credit cards, debit cards, cash payments, and CareCredit®. We are also happy to assist with pet insurance claims.
If you are unfamiliar with veterinary CareCredit, it offers various deferred interest payment plans to pet owners. This enables pet patients to receive the treatment they need while allowing their owners to pay for it over time with low monthly payments. Learn more by visiting our CareCredit page and apply online today!
Pet Insurance
Unfortunately, our four-legged family members are not immune from injury or illness. In today's economy, many pet owners are now purchasing pet insurance to help them with the cost of veterinary health care. Although there are many reputable companies offering pet insurance, we recommend Nationwide pet insurance and Pets Best Pet Insurance (depending on your pet's plan). It not only covers unforeseen veterinary costs, but also many of the routine visits and procedures that take place during a normal year.
When choosing a pet insurance company, it is important to do your research and review several different companies to determine which one fits your needs. Things you will want to consider are which conditions are covered, which conditions are not covered, premium costs, lifetime limits, and stances on pre-existing conditions.
Referral Rewards
Our current clients are the best testament of our commitment to better pet health. If you have had a positive experience at ZimmVet, we would be honored if you would refer us to your pet owner friends. For each new/first time client who uses your name as a referral source, we offer a small token of our appreciation.