Compassionate Eye Care for Zimmerman & Elk River Area Pets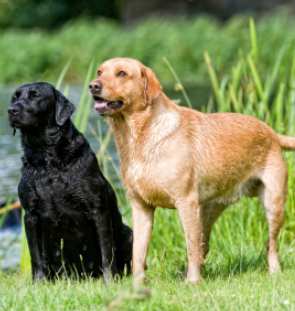 Eye health care in companion animals is often overlooked until a problem arises. Animals suffer from many of the same eye problems that affect humans: cataracts, glaucoma, dry eye, corneal ulceration, tumors of the eye, inflammation of the eye and surrounding tissues, retinal degeneration, and many others. Certain breeds of dogs and cats are also more prone to eye-related diseases.
At ZimmVet, routine eye exams are a vital part of our commitment to maintaining your pet's overall health. Eye problems, if left untreated, can be painful and result in serious long-term effects, including blindness. When performed regularly, eye exams help with prevention and early detection of ocular diseases.
In addition to routine eye exams, our experienced veterinarians offer specialized testing for scratches, fungal or bacterial infections, low tear production, and glaucoma.
Symptoms of Eye Problems in Pets
Since animals do not communicate discomfort the same way that humans do, it is important to know what the signs are that indicate your pet might be experiencing eye problems. Eye conditions can become serious very quickly, so it is urgent that your pet be examined soon after symptoms are noticed. Contact us right away if your pet demonstrates pain in or near the eyes.
Some other symptoms that your pet might be experiencing eye problems are:
Watery eyes
Excessive blinking or tearing
Squinting
Redness
Puffiness
Pawing at the eyes or face
Discharge
Sensitivity to light
Client Testimonials
Wonderful Care! We have been bringing both dogs to ZimmVet for years. We always get great care and everyone is friendly. Our Lab gets so excited when she gets there. Our other dog suffers from great anxiety and they treat her so well. They know the personality of both so well and know how to treat them.
— Lee D.
I would not know of any other veterinarian that has a more caring staff that are patient with us and take the time to listen about our three Pomeranians. Zimmvet knows how important our girls are to us and I would not take a chance on bringing them anywhere else.
— Ken G.
Our vet honored our desire to keep expenses down by providing us with estimates of the treatment we could choose from while trying to find out what was wrong with our very sick puggle. No cost was hidden. On top of all this, our dog was given excellent care. We love Zimmvet.
— Carisa M.
I have and will continue to recommend ZimmVet to others. The staff is personable and professional on all levels, both to the human clients and the animal patients. It is reassuring to me to know that I can count on them for any assistance I may need in caring for my pets now and in the future.
— Lou S.
We love Zimmvet! And most importantly, Handsome loves everyone at Zimmvet! We use their vet services and pet hotel and couldn't be happier with both. Highly recommend!
— Leigh C.
Our experiences over the years are always positive, even if the outcome isn't. The doctors and staff are warm and friendly. They are also very professional and thorough. We feel strongly that we get great value for our dollar, as well as wonderful pet care.
— Laurie C.
ZimmVet Pet Hotel has provided extended stay care for our German Shepherd and Black Labrador twice in the last two years. They did a great job of caring for them both during a two-week trip - not only catering to their needs but their concerned owners with email updates and photos. We can't say enough good things about ZimmVet Pet Hotel!!
— Curt V.
ZimmVet has well trained and competent professionals, but even more important to me is that they are sincerely 'good' people. They care about you and your pets - you're just not another record. In addition to the great staff, they offer a very broad range of services - even day care and training classes!
— Suzanne F.