Veterinary Surgical Services for Zimmerman MN Pets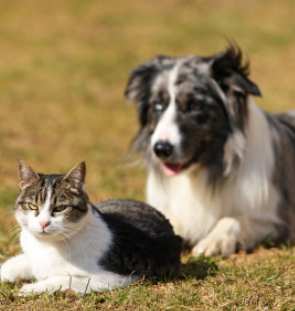 ZimmVet offers high-quality surgical services to our clients. At our facility, we have the capability to perform a wide range of procedures, including spays, neuters, mass removals, laceration repairs, histopathology (tissue analysis, sent out), declaws, puppy tail docking and dewclaw removal, and ear hematoma repairs (ruptured vessel). We also offer in-house orthopedic surgeries by a board-certified surgeon and orthopedic surgeon consults.
We recommend spaying or neutering your pet at six months of age. Your pet will generally have a better temperament and fewer health problems if this is done at an early age. Studies show that 25% of intact female dogs will develop mammary cancer by the time they are adults. This risk dramatically decreases to less than 1% when females are spayed before their first heat. Younger pets are also usually healthier and recover faster from the surgery. Prior to surgery, we will perform a full physical exam of the animal, which includes blood work to ensure your pet is healthy enough for surgery.
What to Expect on the Day of Surgery
At ZimmVet, we provide a high level of safety and care before, during, and after your pet's surgical procedure. Prior to surgery, your animal companion will receive pain medication, which has been proven to reduce pain and discomfort experienced by the patient during and after surgery.
An intravenous catheter will be placed that permits the safe injection of anesthetic drugs. The catheter also gives the surgical team a direct port in case life-saving drugs need to be administered. To ensure adequate breathing during the procedure, a tracheal tube is used. Your canine or feline friend will receive fluids during the surgery to ensure proper blood pressure and hydration. A certified veterinary technician will closely monitor your pet during the surgery. The technician uses monitoring devices that measure blood pressure, heart rate, ECG, and oxygen saturation.
Your animal family member will be kept warm by a special warming blanket that eliminates the chance of a thermal skin burn. All of our equipment is routinely checked and calibrated to ensure safety during your pet's surgery. Once in recovery, your animal friend is kept comfortable with blankets and pillows. The technicians administer pain medication, food, water, and take patients on bathroom breaks as soon as they are able. Your pet's safety during surgery is our top priority.
Client Testimonials
Wonderful Care! We have been bringing both dogs to ZimmVet for years. We always get great care and everyone is friendly. Our Lab gets so excited when she gets there. Our other dog suffers from great anxiety and they treat her so well. They know the personality of both so well and know how to treat them.
— Lee D.
I would not know of any other veterinarian that has a more caring staff that are patient with us and take the time to listen about our three Pomeranians. Zimmvet knows how important our girls are to us and I would not take a chance on bringing them anywhere else.
— Ken G.
Our vet honored our desire to keep expenses down by providing us with estimates of the treatment we could choose from while trying to find out what was wrong with our very sick puggle. No cost was hidden. On top of all this, our dog was given excellent care. We love Zimmvet.
— Carisa M.
I have and will continue to recommend ZimmVet to others. The staff is personable and professional on all levels, both to the human clients and the animal patients. It is reassuring to me to know that I can count on them for any assistance I may need in caring for my pets now and in the future.
— Lou S.
We love Zimmvet! And most importantly, Handsome loves everyone at Zimmvet! We use their vet services and pet hotel and couldn't be happier with both. Highly recommend!
— Leigh C.
Our experiences over the years are always positive, even if the outcome isn't. The doctors and staff are warm and friendly. They are also very professional and thorough. We feel strongly that we get great value for our dollar, as well as wonderful pet care.
— Laurie C.
ZimmVet Pet Hotel has provided extended stay care for our German Shepherd and Black Labrador twice in the last two years. They did a great job of caring for them both during a two-week trip - not only catering to their needs but their concerned owners with email updates and photos. We can't say enough good things about ZimmVet Pet Hotel!!
— Curt V.
ZimmVet has well trained and competent professionals, but even more important to me is that they are sincerely 'good' people. They care about you and your pets - you're just not another record. In addition to the great staff, they offer a very broad range of services - even day care and training classes!
— Suzanne F.