Veterinarians
Maria Krenz

DVM, Owner
Dr. Krenz has been practicing veterinary medicine in the Zimmerman area since 2007. She purchased ZimmVet in December 2008 after longtime owner and founder, Dr. Tony Damer, retired. She is passionate about providing the highest standard of care to companion pets in the form of new technology and updates to the clinic to better serve pets and clients.
Dr. Krenz holds a Doctorate of Veterinary Medicine from the University of Wisconsin-Madison and a bachelor of science degree in animal science from the University of Wisconsin-River Falls. She also regularly attends national and regional seminars, conferences, and workshops in order to stay up-to-date on the latest protocols and veterinary medical techniques.
Dr. Krenz lives on a hobby farm outside of Princeton with her husband, Josh and daughter where they raise horses, cats, chickens, sheep, and cattle. In her spare time, she enjoys gardening and working on their farm and house.
Stacie Olson

DVM
Dr. Olson has been practicing veterinary medicine for over two decades. She graduated with her Doctor of Veterinary Medicine from the University of Minnesota in 1996. Prior to joining ZimmVet, she has practiced a high-level of care at several other small animal clinics in and around the Twin Cities of Minnesota. Early in her carrier she was involved in exotic medicine, however, she quickly realized that her passion is providing the best possible veterinary care options for with dogs and cats.
She is a member of both the American Veterinary Medical Association, and the Minnesota Veterinary Medical Association. She strongly feels that continuing veterinary education is vital to providing the best possible care for her patients, and she attends classes and conferences both in and out of state. Over the years, she has spent a great deal of focus on feline medicine.
In her spare time, Dr. Olson has strong interests in a variety of crafts. This includes stamping, scrapbooking, glass painting, knitting, cross stitching, and many more. Her favorite thing to do is to attend craft fairs. She also enjoys outside activities such as golf, snow shoeing and cross-country skiing.
Dr. Olson grew up in Champlin Minnesota, where she was lucky to have a wonderful family that always gave her support and encouragement with her career. She has adopted everything many animals, including dogs, cats, horses, parakeets, geckos, and hedgehogs. She currently resides in Otsego, Minn., with her two wonderfully-crazy cats Monkey and Nina.
Abby Soderberg

DVM
Dr. Soderberg holds a Doctorate of Veterinary Medicine from the University of Wisconsin-Madison and a Bachelor of Science degree in animal science from the University of Minnesota. Go Gophers! She is a member of the Minnesota Veterinary Medical Associated, Wisconsin Veterinary Medical Association, and the American Veterinary Medical Association. Dr. Soderberg is very enthusiastic about serving Zimmerman and the surrounding community by providing compassionate, personalized care to every furry family member that walks through the door.
Dr. Soderberg was born and raised in a small, rural town in northwest Wisconsin (30 miles north of UW-Stout). Her love for animals started at a young age with caring for earth worms and caterpillars. This passion quickly blossomed, with the patience of her parents, into caring for hamsters, rabbits, cats, and dogs. Since then, Dr. Soderberg has gained experience with a wide variety of animals including showing Guernsey cattle through her local 4-H chapter, bird hunting with her family's German shorthair pointers, working at her local humane society, and fostering cats and dogs through Secondhand Hounds Animal Rescue.
Dr. Soderberg is happy to be back in Minnesota to enjoy everything this great state has to offer, including the beautiful state parks, eclectic farmers markets, and live music scene. In addition, she loves to hike, read, and be crafty in her spare time. Dr. Soderberg lives in Plymouth with her fiance, Ben and loveable rescue mutt, Indie.
Stacy York

DVM
Dr. York holds a Doctorate of Veterinary Medicine from the University of Minnesota. After graduation, Dr. York has practiced small animal veterinary medicine in the Twin Cities area. Prior to becoming a veterinarian, Dr. York spent time learning about veterinary medicine by working as a kennel attendant, receptionist, technician assistant and veterinary technician. Dr. York enjoys being a general practitioner, and she has a very strong interest in surgical procedures.
Continuous education and learning is important to Dr. York and her ability to serve the individual needs of each patient. She accomplishes this by being an active member of the Minnesota Veterinary Medical Association, the American Veterinary Medical Association, the American Animal Hospital Association, and the Minnesota Veterinary Response team. In the past, she has also been a veterinary volunteer for RAGOM. She has also served as a foster home for Human Society's Orphaned kitten project. Dr. York is also a former member and foster parent for Second Chance St. Bernard Rescue and past member of Northstar Newfoundland Club.
Having been born and raised on a small beef cattle farm in Iowa, Dr. York enjoyed the opportunities to work with a wide range of animals growing up. Today, Dr. York lives in the Twin Cities with her husband, Mike and their two children. She also has two domestic long-haired cats, and three dogs (Chewy - Newfoundland, Lulu Belle - French bulldog, and Bombur - French bulldog). In her spare time, Dr. York aspires to enjoy photography, scrap booking, hiking, biking, boating, cooking, reading, and working on home improvement projects with her husband.
Technician Staff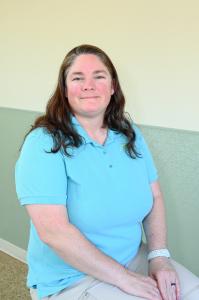 Gianna Tuckner

CVT
Wanda Becker

CVT
After many years of taking her own pets to her local veterinarian, Wanda began exploring her own career in Veterinary Medicine by shadowing veterinary technicians at the veterinary clinic where she took her animals. In 2002, Wanda earned an associate of applied sciences degree in veterinary technology from Argosy University. She worked at the Monticello Pet Hospital for 11 years before joining the technician staff at ZimmVet.
Wanda is a certified veterinary technician and enjoys advancing her knowledge of veterinary medicine by earning continuing education credits at conferences such as the Minnesota Association of Veterinary Technicians conference. She is especially passionate about dental care, but Wanda also uses her enthusiasm for high quality veterinary care to assist patients in all of their medical needs.
A Minnesota native and life-long animal enthusiast. In the past, Wanda has had Chesapeake Bay Retrievers and orange cats. She has one grown son, who attends college and is a member of the Minnesota Army National Guard.
Rebecca Brethorst

CVT
A native of Zimmerman, Minn., Rebecca started her career in the veterinary field in 2012 by working at ZimmVet as a Veterinary assistant. During that time, she worked alongside our Veterinarians & Technicians, studying the skills of the ZimmVet staff and learning along the way. Rebecca graduated Argosy University in 2015 with an Associate's Degree and soon later became certified as a Veterinary Technician. Rebecca runs ZimmVet's social media accounts and throughly enjoys doing so.
As a child, Rebecca always knew she wanted to become a Veterinary Technician. Through hard work, dedication and a lot of time spent with pets, she is happy to be living her childhood dream. Rebecca loves spending time outdoors with her husband and very spoiled dogs, Bambi & Sailor

Ashley Middendorf

CVT
Growing up as a child, Ashley's passion for veterinary medicine was greatly influenced by close family and friends with careers in the veterinary field. She would spend the summers while growing up in Wisconsin at her Aunt's veterinary clinic, which allowed her to observe the veterinary field in action. These experiences encouraged her to pursue a career in veterinary medicine.
After high school, Ashley pursued her passion for animals by attending the University of Minnesota for animal science. During this time, she decided to pursue the veterinary technician career path. She transferred to Minnesota School of Business and graduated with her Associates of Science Degree in Veterinary Technology in 2010. As a Certified Veterinary Technician, one of her first jobs was as a veterinary technician at a humane society. She enjoys continuing her education with conferences, and being an active member of Minnesota Association of Veterinary Technicians.
Ashley resides in Big Lake Township with her husband, Chris and daughter. They share their home with four dogs & 2 cats. Besides working as a Certified Veterinary Technician Ashley manages the Technician Internship program at ZimmVet.
Angie Novatney

CVT
A Minnesota-native, Angie started her career in veterinary medicine by graduating from the Minnesota School of Business with an Associates of Applied Science Degree in Veterinary Technology in December 2007. Angie's passion for animals started far before her career started. She learned to love animals from her Dad, who was always saving something when she was a kid. He would show compassion for anything from a seagull with a broken wing to a frog that jumped off a delivery truck in the middle of winter and needed a warm place to stay.
Angie is a certified veterinary technician and enjoys helping ZimmVet clients learn about the many technologies available to take care for their pets. When not practicing her life-long passion for the care of pets, she enjoys spending time in nature and enjoying the outdoors. This includes spending time outside, attending various summer car shows like Back to the 50's, and tending to her garden.
Kristin Rinkel

CVT
With over 11 years of experience, Kristin chose to be a professional veterinary technician because of her compassion for helping pet owners understand the health needs of their loved ones. This compassion can be seen in how she approaches every individual pet.
Kristin began her career by fulfilling a variety of veterinary clinic roles, including working as a veterinary assistant, receptionist and kennel worker. In 2009, Kristin graduated from the Minnesota School of Business with an Associates of Science Degree in Veterinary Technology. Today, Kristin is a Certified Veterinary Technician.
Having a father in the U.S. Army, Kristin was born in Germany and spent many of her younger years overseas and in other parts of the U.S. She spent the remaining parts of her childhood and young adult life in Minnesota. Kristin currently lives in Princeton with her husband Jake, and their daughters, Autumn and Adalynn, as well as her fur-kids, Pumpkin (cat), & Blaze (German Shorthaired Pinter).
Support Staff
Valerie Ferguson

Customer Service Representative
Since Valerie was a young child she has always had a love for animals and has taken great interest in their well-being. She began working in the veterinary industry in 2006 as a receptionist while attending college to obtain her Business degree. Once she graduated she ventured out to try different industries to utilize her degree, and her passion for animals prevailed and brought her back to the veterinary field, where prior to joining the ZimmVet team, she had gained over 10 years' clinical experience including customer service, office management and record-keeping.
Valerie feels that client education is very important and is continuously advancing her knowledge through continuing education to ensure that she relays the most accurate information.
Valerie lives in Isanti with her husband, 2 dogs and 1 cat. Her favorite pastime is exploring new hiking trails with her husband and dogs. She also enjoys camping, biking, cross country road-trips, shopping with her mom and spending time with family and friends.
Abby Gustafson

Customer Service Representative
Growing up in the Twin Cities, Abby has been around animals her entire life. As a child, she was intrigued by the mission of the American Society for the Prevention of Cruelty to Animals (ASCPA) and law enforcement television shows highlighting dog cases. From there, her love for helping animals grew. Abby pursued a career as an Animal Cruelty Investigator and proceeded to study for an Associate's in Criminal Justice from North Hennepin Community College. She also studied animal science for one year before finding her passion in the field of veterinary medicine. Abby joined ZimmVet in March 2018 after spending 10 years with other veterinary clinics in several roles within the Twin Cities.
In her spare time, she enjoys relaxing at her home in Ramsey with her husband, Jon, and her two children, Claire and Henry. Abby also has ducks, chickens, and three dogs. She is a Board Member and the Transport Coordinator for an animal rescue, based on an indian reservation in Sisseton, South Dakota, where they have removed 3000 animals off the reservation and into rescue groups in the Twin Cities.
Amy Johnson

CVT, Lead Customer Service Representative
Amy serves as the lead receptionist for ZimmVet. She holds an Associate of Science Degree from the Medical Institute of MN, Veterinary Technology Program. Amy enjoys veterinary medicine because it is an ever-changing and challenging profession. Her career choice also fuels her passion for animals by providing pets with a positive medical experience every day.
A certified veterinary technician, Amy uses her years of experience to help customers understand the services offered by the clinic. This firsthand veterinary technician experience gives her an in-depth perspective when discussing services performed on our client's pets.
Amy resides in Milaca, Minn., with her husband and their many animals. She enjoys spending time with her many varied animals and working on outdoor projects.
Amy spends her time taking care of customer's needs at the reception desk, managing the reception staff and keeping the clinic book keeping up to date.
Deb Neises

Customer Service Representative
Mindy Rinkel

Customer Service Representative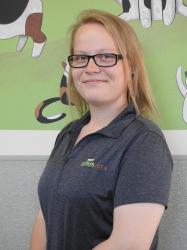 Katelyn Bursch

Veterinary Assistant
Katelyn began working at ZimmVet in October of 2018. She loves spending her days with animals of all shapes and size. Katelyn is the head of our Room Service menu and enjoys making and serving the treats to all the pups! She recently received her pet CPR certification and is currently working on getting her Associates Degree in Veterinary Technology with hopes to one day become a Veterinary Doctor! Katelyn lives with her two dogs Bobber and Sadie who love taste testing room service, helping her study for school, and fishing trips on the weekends.
Abbey Stackhouse

Veterinary Assistant
Kaytie Wildman

Veterinary Assistant
Kaytie has lived in Princeton for over 5 years. She worked as a Banquet Chef and Kitchen Manager for 15 years. She's loved animals since she was a young child. After having her second child she chose to make the switch to what she's always dreamed of doing, working with animals. She joined the ZimmVet team in our Dog Daycare in April of 2019! She is currently continuing her education in a Veterinary Assistant Program. Her goal is to become a Large Animal Veterinarian, to help and serve local farms and ranches.
In her spare time, she loves being with her family as much as possible. She enjoys hunting, fishing, horseback riding, archery, cooking and catering, and spending time on her family farm.
Pet Hotel, Dog Daycare and Technician Assistant Staff
Lena Hansen

Pet Hotel and Dog Daycare Manager
Lena began working in the daycare and hotel in 2017 because of her interest in learning about dog behavior and socialization. Lena took over as general manager of ZimmVet's Dog Daycare and Pet Hotel in 2020. As a graduate from UW-Superior in 2017 and a native to Wisconsin, Lena moved to Minnesota with her boyfriend to look for more opportunities in career growth. In her spare time she practices writing and experimenting with art projects. Nature walks are always on her agenda too, and of course, those walks wouldn't be complete without the company of the family's Catahoula Leopard Dog, Mia.
Michaela Tallant

Professional Groomer
Michaela started following her passion in a career working at ZimmVet, in the Dog Daycare and Pet Hotel in 2017. In November of 2018 she began an apprenticeship for Grooming! She graduted in June of 2019 and is now ZimmVet's Groomer. She graduated high school in 2016, and continues to study dog body language, behavioral skills, and new grooming techniques.
As a resident of Princeton, MN Michaela loves spending time with her six dogs (Jasmine, Pixel, Lucy, Khaos, Rhea, and Sweetheart) and Fiancé Brett. They enjoy relaxing at home, and spending time at the dog parks.
Darian Smock

Pet Hotel and Dog Daycare Staff
Darian began working with dogs 9 years ago, teaching basic obedience classes and specialized classes such as CGC prep and trick class. After several years Darian went to work at a professional dog show kennel. She worked there as a kennel assistant for an AKC dog breeder. She learned a lot about purebred dogs and sanctioned dog sport. Shortly after joining their team, she began mentoring under 2 of the top show dog handlers in the country. Under their guidance, Darian learned how to handle a variety of breeds in the show ring. Darian now spends her free time participating in sanctioned dog sports with her whippets including conformation, lure coursing, and straigh line racing. Darian is thrilled to have joined the ZimmVet team in February of 2019!